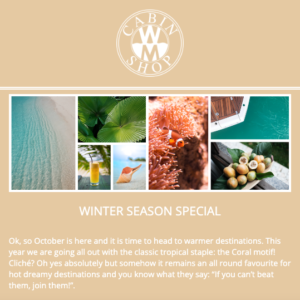 Ok, so October is here and it is time to head to warmer destinations. This year we are going all out with the classic tropical staple: the Coral motif! Cliché? Oh yes absolutely but somehow it remains an all round favourite for hot dreamy destinations and you know what they say: "If you can't beat them, join them!".
Follow this link to read the  WINTER SEASON SPECIAL Newsletter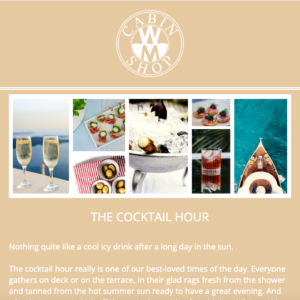 Nothing quite like a cool icy drink after a long day in the sun.
The cocktail hour really is one of our best-loved times of the day. Everyone gathers on deck or on the terrace, in their glad rags fresh from the shower and tanned from the hot summer sun ready to have a great evening. And what better way to kick off the party than with a few drinks whilst watching the sun go down?
To celebrate this special time of day we have put together a selection of some of our favourite barware and other cocktail essentials.
Follow this link to The Cocktail hour Newsletter
Subscribe to our newsletter