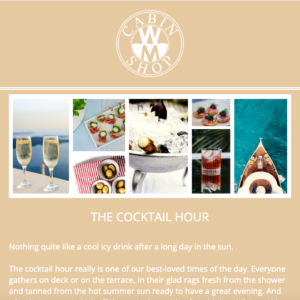 Nothing quite like a cool icy drink after a long day in the sun.
The cocktail hour really is one of our best-loved times of the day. Everyone gathers on deck or on the terrace, in their glad rags fresh from the shower and tanned from the hot summer sun ready to have a great evening. And what better way to kick off the party than with a few drinks whilst watching the sun go down?
To celebrate this special time of day we have put together a selection of some of our favourite barware and other cocktail essentials.
Follow this link to The Cocktail hour Newsletter
We often fail to see it but colour abounds in nature and although recent trends have steered us towards neutral palettes, there is definitely something to be said for colour.
It brings fun and cheer to any setting and whilst it is often used in small touches to accent an otherwise restrained environment, at Cabin shop we believe in embracing the bold and beautiful.
This is why we have put together a small selection of our favourite colourful products to entice you over to the flamboyant side of the force!
Follow this link to the Life in Technicolour Newsletter.
Subscribe to our newsletter