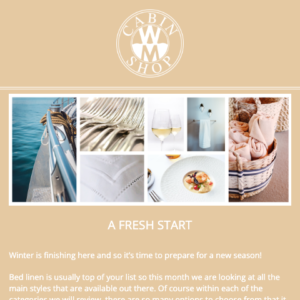 Winter is finishing here and so it's time to prepare for a new season!
Bed linen is usually top of your list so this month we are looking at all the main styles that are available out there. Of course within each of the categories we will review, there are so many options to choose from that it can be a little daunting. This is why at Cabin Shop we are here to accompany you every step of the way covering: style, quality, sizing, costings and delivery.
Follow this links to read the A FRESH START Newsletter.
Once again, we have reached the end of another year, and can look back with pride and a big smile. Massive thanks once more to our wonderful clients and fantastic suppliers for making this an incredible year for Cabin shop.
Wherever you might be now, in sunshine or in snow, working on board or on vacation, we wish you lots of fun, love and laughter during this holiday season, and look forward very much to working with you again in 2023.
Happy holidays from all the Cabin shop team. xxx
Subscribe to our newsletter