Season's Greetings and best wishes for the New Year from all of us at Cabin shop.
Whether your seasonal holidays will be spent in the warm or the cold, we hope they will be happy, fun and relaxing.
We would especially like to thank all our fantastic clients for their loyalty to Cabin shop and look forward to working with you again in 2021.
Cabin shop will be closed from the 19th December to the 4th January. In the meantime, take a look at our website and send us an email with any of your requests.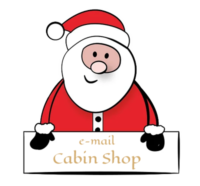 Subscribe to our latest news